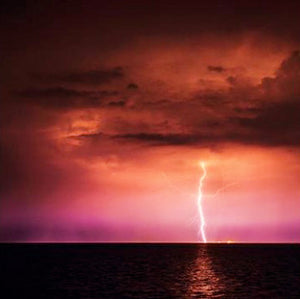 lightning over dungeness canvas print
A fork of lightning hits the ground at Dungeness. The power station is lit on the right and a single dot of light on the horizon to the left shows the position of the new lighthouse. 
Photograph by David Purdie.
All the canvas prints are printed and assembled by David. They are signed and the edition number written in the margin of the print on the back. The limited edition prints form part of a maximum edition of 250 regardless of the size of each print in the edition. So there will be a limit of 250 signed, numbered prints.

Sometimes we will have a canvas in stock on the wall at the gallery in which case we can send the print to you immediately. If it is not in stock manufacture can take up to 10 days, followed by a coule of days for delivery, but is usually finished sooner. If you need a print quickly please call us before ordering to discuss it. 01797 226 937

Canvas prints are supplied ready to hang with a brass wire on the back. 
238

---
We Also Recommend