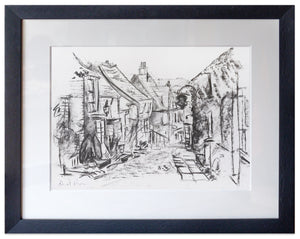 signed print of mermaid street rye
Printed on really high quality paper, these open edition prints are made and then signed by David Purdie from his drawings. The picture is then put into a high quality window cut mount and framed by us. It is glazed with 2mm float glass. The mount is very nice quality acid free board with a slight texture in what could be called off-white. We chose the mount board to be slightly darker than the paper. There is a brass wire on the back of the frame so it is ready to hang as soon as you get it home.
This is the only glass framed product we are confident od sending throught the post. Anything larger seems to get broken but these make it safely. And if they don't we will send a replacement!
The drawing print  size is  28x35cm and the overall frame size is 45x55cm (roughtly 17 1/2in x 21 1/2in)   
UK mainland postage for these is £9.95   
---
We Also Recommend