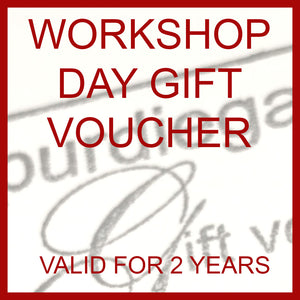 Workshop Day Gift Voucher
workshop day gift voucher
This is to purchase a workshop day gift voucher. It comes as a stamp in a greeting card for you to hand over as the gift. It is valid for 2 years from the date of order and can be used to book a place on any beginners, intermediate or themed workshop days (space permitting, the days are limited to 6 people and do normally get booked up). These are not valid for the more expensive advanced days, but could be used as part payment for and advanced day. 
When the recepient chooses their day, they can book on the phone, or simply book on the website and enter the gift voucher number intead of going through the checkout payment on our site. Or they can book over the phone 01797 226 937. 
When booking this make sure you give us a delivery address, so we can post the card to you. We don't need the recipients name and details until they choose their workshop day.
For full details about the days see the relevant workshop days on the website. Please make sure to give us you phone number (preferably mobile) AND email address. 
David Purdie workshops general info and FAQ
Once the day is booked we aapply the following cancellation policy here.