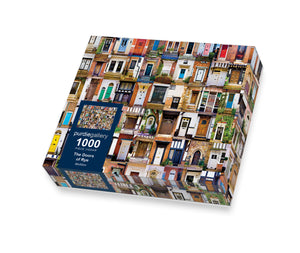 Doors of Rye jigsaw 1000 pieces 66x50cm
Piece together a beautiful image of the iconic doors of Rye. Enjoy mastering a fun challenge with friends and family!

We have a terrific new supplier who also makes jigsaws for the National Trust, National Gallery and others. They are really top quality with a lovely sturdy box. The jigsaw comes with an A4 print inside for reference when making the jigsaw so no more squinting at the box lid!

The completed jigsaw size is 66x50cm.

The box size is 224x195x55mm

UK delivery for up to 4 jigsaws is £5.50, above that the price will be calculated at the checkout. Delivery takes 3-5 days, we will send you tracking to you if you have provided an email address we can send it to.

The extra photos are to show the box and quality of the pieces, and may be of a different design, but identical packaging and quality..

---
We Also Recommend